The Great Unanswered Question
Disclaimer: I'm not an economist and I'm not proposing a solution to this problem, this is simply a morbidly humorous satirical take on why banking is such an unjustly profitable business and how it is now, after causing global crisis, descending to pick at the bones, starting on our education system.
The premise: It is universally accepted that the sub-prime mortgage crisis triggered the global financial disaster. Sub-prime mortgages were loans sold to poor people to buy houses. A house, worth purchasing by it's nature has two critical properties that education doesn't:
1. Under normal circumstances it rises in value in real terms every day.
2. It is a tangible item that can be re-sold, re-mortgaged and is generally, well, a real thing that you can put your hands on without needing a time machine.
Continue reading »
Follow Simon on 
Twitter
, 
Facebook
, 
Google+
, 
RSS
, or join the 
mailing list
.
For those following the previous story… I've just stumbled across the wide angle shot (courtesy of the always marvellous @Bengoldacre). Well this really does change the feel of the picture.
Update: OK The guardian is forgiven…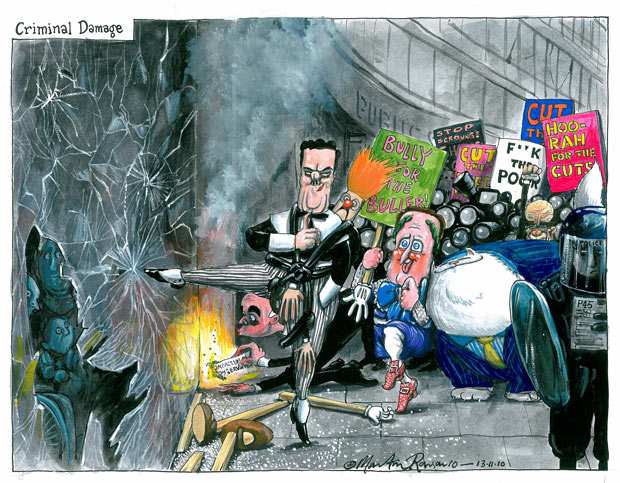 Follow Simon on 
Twitter
, 
Facebook
, 
Google+
, 
RSS
, or join the 
mailing list
.
If you walked in to your newsagents yesterday you'd be forgiven for thinking you'd walked in to a shop in Communist China. Faced with dozen of papers, each and every one with the same front page story and the same picture…
After reading any one of these papers you'd be also be forgiven for thinking this situation was entirely engineered. For months it was known that tens of thousands of angry students would be marching on London, ending their march at Tory HQ with nowhere to go next except the long ride home. To suggest that not placing any real security there whatsoever was "poor planning" seems a bit of an understatement. As someone that has studied the theories of crowd behaviour the police use, it is remarkable that the riot was as mild as it was. In reality about 50,000 students marched on London and approximately 49,800 of them showed remarkable restraint in not taking a stroll in to the wide open Tory HQ they found before them. Lets think about this, at the Notting-hill carnival, a festival of music, dancing and good food, every shop keeper in town knows whats best for him and boards up his windows just in case. If it was your shop and you'd been given two months notice that 50,000 people, very angry at your product were heading directly to your front door would you not do the same? Instead they even left the doors open, the first few to enter just "ran past the bemused secretary".
Considering the facts, this "poor planning" is even more remarkable, only one "Government" ago education was entirely free for students, funded by the tax payer. Overnight, "top-up fees" were introduced of around £3000, there was no great protest, we trusted this was in our best interests. Now the term "top-up fees" seems pretty redundant, with fees raised from around £3,000 to almost £10,000 a year this change effectively prices young people out of education if they are not aiming for high earning professions. I'm not going to argue whether this is right or wrong but higher education has in less than a decade gone from costing nothing to costing £30,000 plus £10,000+ loaned living expenses. The fact of the matter is that a significant proportion of students voted for the Liberal Democrats, largely because of their position on education and despite the success of the democratic process in giving them a position on the matter, this promise has been entirely abandoned. With all this in mind the idea that this could have been anything but a toxic situation seems pretty ridiculous.
So what does the establishment have to gain from this? Firstly the psychological effect on the middle classes who will be reading these newspapers. Few prospective students will want to associate themselves with the violent, hooded figure in this picture. If you look carefully at all of these photos there are far more press around photographing the action than people causing trouble. That situation is incendiary in itself. These photos may put off peaceful people from attending future protests, especially after hearing reports that even totally peaceful students at the protest were forced to have their faces individually photographed by police. Secondly, this relatively harmless and staged event will give the police the justification they need to return to their old, heavy handed and aggressive tactics in arresting protesters in future. Thirdly the police will now use this case as justification to dictate where and when we can cannot protest. From the news reports this will appear to some to be a victory to the common man, in reality this is a great victory for the police and the establishment. They laid the bait, we took it.
Follow Simon on 
Twitter
, 
Facebook
, 
Google+
, 
RSS
, or join the 
mailing list
.
Twitter

Facebook

Cookie Compliance

This site contains cookies. If you have ever used the internet before then you probably knew that already and ate them long before you arrived here. If you are allergic to cookies please leave now.